Final Exams?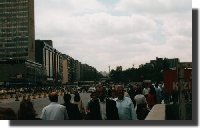 The final week of classes really flew by. We had all come to Turkey for different reasons, but the academics courses definitely took a back seat. Most of us were taking summer school for the one and only time in our lives and we were in an incredibly amazing place. Sure we learned a lot, but when classes winded down, we were ready to leave. We quickly bid farewell to all of the classmates and professors. We were proud to at least be able to say thank you in Turkish and give the standard kiss on the cheeks. We exchanged addresses and then we were off.
Istanbul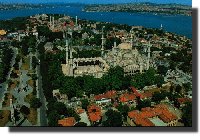 Most of us still had some time to waste before heading back to our home schools, so many of us made some stops on the way back. Istanbul was the one place in Turkey that we had not seen over the past eight weeks. Jeff and I remembered how we had originally hoped to study at Bogazici University in Istanbul before that summer program was cancelled. Now, looking back, I think we were happy that we had studied in Ankara.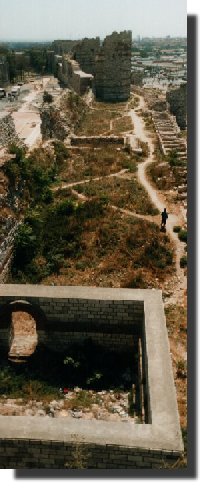 Don't get me wrong, there is a ton to see in Istanbul. We all shacked up in a hostel in the Sultanahmet area. I didn't realize this, but Istanbul has long been a favorite stop on many travels in and out of the Middle and Far East. There are tons of tourists there on any given day and most of them converge on the amazing historic monuments like the Ayasofya (church turned mosque turned museum), Sultanahmet Camii (the Blue Mosque), and the nearby circus and palace. Pretty cool stuff.
Scam Artists
In a way it is comfortable to hang out in places where there are many tourists because English speakers, maps and Cokes are never far away. However, tourists tend to attract scam artist who prey on people with their guard down. Well, we were feeling pretty confident, so four of us headed out to one of the smaller islands for the day. The ferry ride was nice and we chose a horse-drawn carriage to take us over to a bunch on the far side. Well, mostly by our own mistake, we each paid the driver the price of the full ride. Something was lost in the translation of the price and everyone thought that we had to pay the same amount. The driver, who wasn't REALLY trying to scam us, didn't bother to point out our error and made off with a lot of money. For all of the trouble, the beach wasn't that great anyway.
Conclusion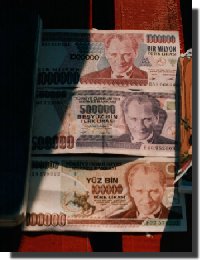 Aside from overzealous carpet salesmen, I really can't think of many other problems that any of us encountered in Turkey, though. The place was just amazing. We were all in a bit over our heads to attempt to just jump into a place that we knew almost nothing about, but the Turks were the most gracious hosts. Whether they were shopkeepers, teachers, fellow students, bus drivers, etc, everyone was really great. If you ever get the chance to visit, I highly recommend summer school at METU, a visit to Ankara and the vicinity, and lots of that strong tea. Cheers.