Travels, Weekend #2
On first of July, we traveled to the ancient city of Bogazkoy. The city is estimated to be over three thousand years old. It was supposedly the Capital of the Hittites. Personally I found it to be very amazing.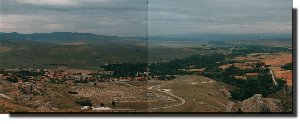 Is not a very popular tourist spot, but i think it is worth seeing. There are some great hieroglyphics, a great wall and some really cool evidence of swinging doors that rubbed into the stone long ago. It may not sound that cool, but I truly enjoyed seeing things this old and being able to make deductions about their origins. The same day we visited Alacahoyuk which is supposed to be even older. It was inhabited by either Hittite or Hatti people.
Our Travel Companions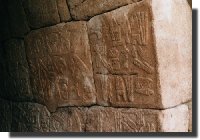 I might also mention that we usually were guided by a professor who was really excited about what he or she was showing us. Most of the traveling that I did was arranged for the summer school program. This experience was truly priceless. I saw plenty of other people getting tours throughout Turkey, but I think that we had the best tour guides.
Travels, Weekend #3
Our next major destination was Konya. This is a beautiful city with many mosques and religious festivals. It is famous for its "whirling dervishes" as well. However, it is not on the seacoast, so not as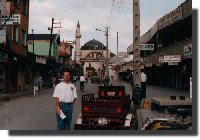 many people visit Konya. Anyway, it was the capital of Turkey during the Seljuk period. It is sorta of Kyoto of Turkey, if you are familiar with Japan. It is a quieter, more traditional city than the current Turkish capital. There are many beautiful buildings including a great karavansaray outside the city. I was thoroughly enjoying myself despite the summer heat.